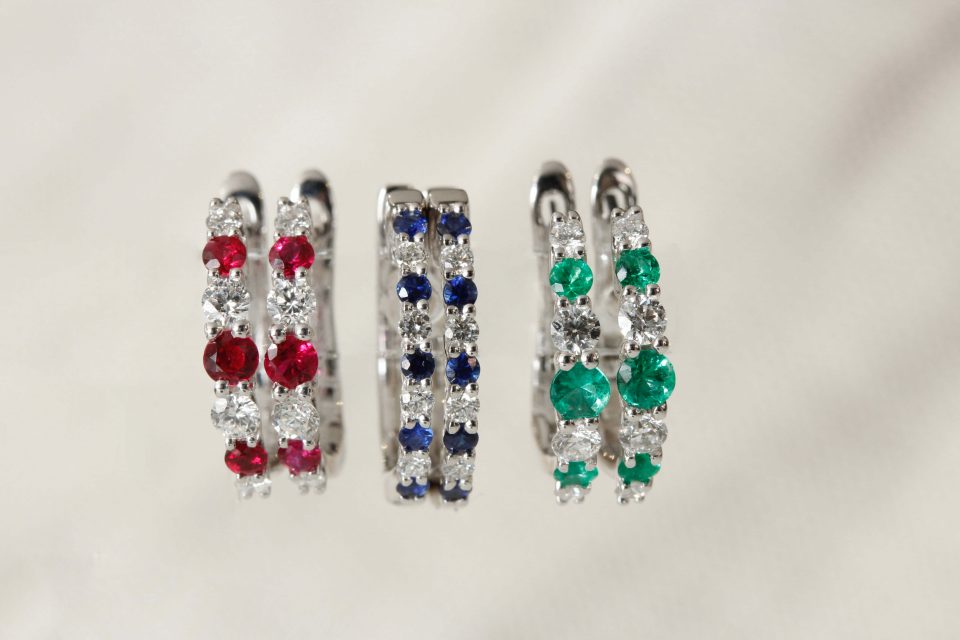 ---
Posted On 8th August 2022
From pretty studs to elegant drop designs, selecting the perfect pair of earrings can complete your outfit.
Are large hoops suitable for work or weddings? What about the best style of earrings to wear with short hair or a rounder face? With so many designs, deciding which to go with can be overwhelming.
Whatever your occasion or outfit, Robert Gatward Jewellery is here to help you pick the best earrings for every scenario.
Different earring styles
Earrings come in all shapes and sizes, with many designs not adhering to one particular style.
Modern earrings like cuffs and climbers give your outfit an edgier look, while classic studs and drop danglers are quintessential pieces of any jewellery collection.
Understanding the different earring styles helps you easily select the perfect design for your occasion.
Studs
Studs are usually smaller and typically sit snugly on the ear lobe. They often feature a simple design, making them one of the best everyday earrings. Diamond studs are jewellery box staples and make ideal gifts.
Hoops
Classic hoop earrings are rounded and shaped like a hoop. However, modern designs may feature more angular shapes such as squares, triangles, or hexagons. They range in size and thickness, with more oversized hoops giving a more dramatic look and smaller huggies adding subtle sparkle.
Drop and dangle earrings
Drop earrings have a little length and are usually simple in design, featuring a gem or charm at the end. Dangle earrings are slightly longer and typically have more movement, with a more intricate design. Chandelier earrings are an exquisite type of dangle earring, often resembling the shape of a chandelier.
Ear cuffs
Another modern earring style, ear cuffs are wrapped around the desired part of the ear and held in place by the pinch of the design itself or, in some cases, a stud. They don't always rely on piercing holes and can be placed on several ear parts, making them a versatile choice.
The best earrings to wear for every face shape
While there are no rules for expressing yourself with jewellery, particular earrings flatter particular shaped faces. Knowing which design to choose can help show off your unique face shape and highlight your features.
Round face
Drop styles are the best earrings for a round face, as the design helps elongate your features. They can also help make your face appear slimmer while complimenting your round silhouette.
Square face
If you have angular features, round hoop earrings can help soften the edges of your face. Hoop earrings come in many styles and sizes, meaning you'll have loads of fun experimenting.
Oval face
Have you got an oval face shape? You're in luck — this shape is the easiest to style, and you'll find more earring designs that complement your features. However, most people with oval faces favour huggie earrings, which draw attention closer to the face and emphasise the shape.
The best earrings to wear for every hair length
As well as your face shape, the length of your hair can influence which earring style is most flattering. Pick these designs to showcase your locks to their fullest potential.
Long hair
Studs are practical earrings for everyday wear if you like to keep your long hair down, as they won't get caught in the dangling strands. Choose vibrant colours and eye-catching designs to ensure they make a statement and stand out among your hair.
Medium hair
For shoulder-length hair, choose earrings that fall higher than where your hair does. Mid-sized hoops and dangling earrings are great, and if you opt for smaller styles, simply tuck your hair behind your ears to show them off.
Short hair
From tiny studs to bold chandeliers, the best earrings for short hair are whatever fits your style. Short haircuts can rock a variety of earring shapes and designs — the only tricky part is choosing your favourite.
Best bridal earrings
Even if you're not usually a jewellery wearer, your wedding look will likely feature a pair of bridal earrings.
The most popular colours are, of course, white and cream. However, some brides use their occasion earrings to satisfy the 'something borrowed' or 'something blue' wedding traditions.
If you're wondering what earrings to wear with what neckline during your big day, pearl drop earrings are an excellent all-rounder. They're the ideal length for high or low necklines, as they won't take attention away from the design of the dress style.
Diamond studs are also some of the best earrings for a wedding, as they perfectly pair with a diamond engagement or wedding ring. The subtle shine also adds a touch of sparkle to the overall look.
Best earrings for work
Choosing professional earrings for work all depends on the office dress code. Some businesses have a very relaxed approach, so statement pieces and flashy designs are a fantastic opportunity to inject some creativity into your working day.
However, professional settings with stricter policies may require you to be slightly more subtle with your earring choice. In this case, gold or silver studs and small hoops are appropriate. The classic material and design complement most businesswear without overpowering your outfit.
Best party earrings
When choosing the best party earrings, the sparklier the better! Pick gemstones and designs that catch the light when the disco begins, ensuring you'll still be radiant even as the lights go down.
Parties are also an excellent opportunity to experiment with colour and style, for example, opting for a statement earring that may feel out of place in your everyday wardrobe. An eye-catching earring can tie your outfit together and see you receiving compliments all night long.
---