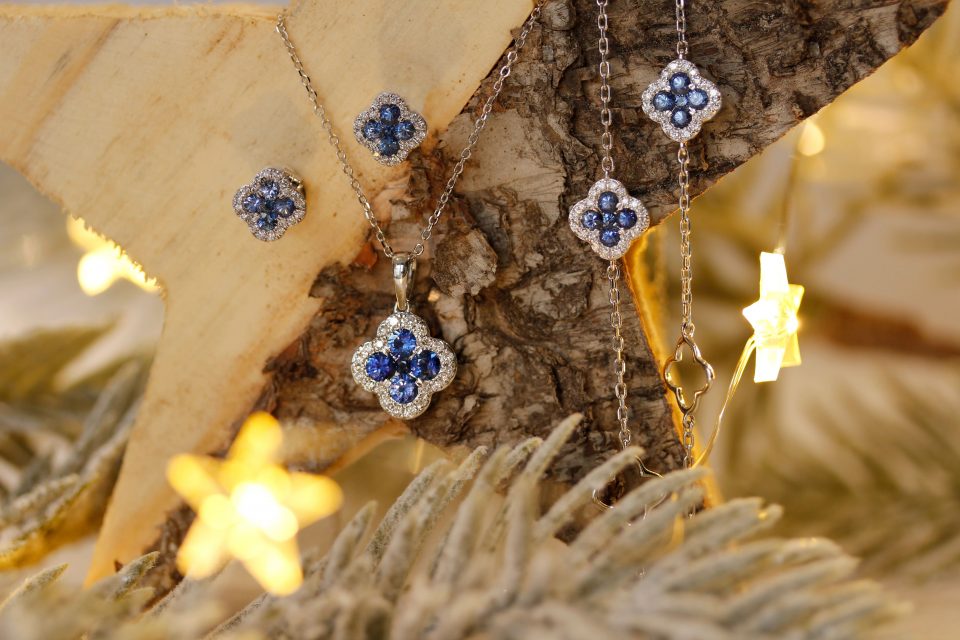 ---
Posted On 27th November 2023
The holiday season is edging closer, and with it comes a whirlwind of joy, warmth, and endless festivities.
One of the most exciting parts of this magical time is the Christmas parties that light up winter nights.
Whether attending an elegant office soirée, an intimate family gathering, or a glitzy New Year's bash, one thing can truly elevate your festive ensemble: jewellery.
So, grab a mug of hot chocolate and make yourself cosy as we take you through the latest seasonal trends and styling tips. Discover how to express your unique style with the perfect Christmas party jewellery.
Trending Christmas party jewellery styles
From enduring elegance to daring statements, this year's trending Christmas jewellery designs perfectly showcase the old and the new.
Here are the highlights of what's hot (or, should that be, cold!) for the festive season.
Chandelier earrings
These statement earrings are known for their elaborate designs and intricate details, often resembling the shape of a chandelier. They add allure and elegance to any outfit, making them popular for festive occasions like Christmas parties.
Layered necklaces
Layering necklaces of different lengths and styles can create a chic and fashionable look. Mix and match various chains, pendants, and textures to add depth. This style also allows for creativity, so you can customise each layer.
Cuff bracelets
Cuff bracelets are bold and stylish, wrapping around the wrist in a cuff-like way. They come in many designs, from minimalistic and sleek to ornate and embellished. Cuff bracelets make a strong statement and can effortlessly upgrade your Christmas party look.
Pearl jewellery
Pearls are classic and timeless. Whether in the form of earrings, necklaces, bracelets, or rings, pearls add a whisper of sophistication and grace to any ensemble. Opt for traditional white pearls or explore coloured pearls for a modern twist.
Minimalist pieces
Minimalist jewellery is all about simplicity and understated elegance — delicate rings, thin chain necklaces, and small stud earrings are perfect examples. You can wear these pieces individually for a subtle look or layer them for a personalised style.
Cocktail rings
Cocktail rings feature large and colourful gemstones, usually worn on the index or middle finger. They capture attention and add glamour to your party outfit. Choose from various gems and designs to match your outfit's colour scheme or make a bold contrast statement.
Oversized pendants
From chunky necklaces with large pendants to a long chain with a big centrepiece, oversized pendants draw attention to the neckline and instantly elevate a simple outfit. They're incredibly versatile and can be paired with low-neck and high-neck outfits.
Sculptural silver
Silver jewellery continues to be a timeless and versatile choice for Christmas parties. Its elegant, cool-toned lustre complements a wide range of outfits. The striking effect of sculptural silver Christmas jewellery, in particular, adds a modern and artistic flair to your look.
Colourful Christmas gems
Colourful gems reflect the season's festive spirit, making them a fabulous addition to your Christmas party jewellery.
The sparkle of diamonds under Christmas lights creates a magical effect during the holidays, while bold stones complement the vibrant colours of festive outfits and decorations.
Let's take a look at some gemstone options to consider for your Christmas look.
Ruby
The deep red hue of rubies symbolises passion and love, making them a perfect choice for Christmas. Red is a traditional colour associated with the holiday season, representing warmth and festivity. Ruby jewellery instantly adds luxury and elegance to your Christmas ensemble.
Emerald
With their rich green colour, emeralds are often associated with nature and renewal. Green is also a prominent colour during Christmas, representing evergreen trees and holly leaves. Emerald jewellery supplements these festive decorations and signifies hope and growth, adding meaning to your holiday outfit.
Sapphire
While blue may not be the first colour that comes to mind for Christmas, blue sapphires can represent the night sky and winter ambience. Blue sapphire jewellery, especially when paired with white diamonds, creates a stunning contrast that mimics the beauty of a winter night.
Amethyst
Amethysts have a purple hue that signifies luxury and spirituality. It's also associated with grandeur, making it popular around the party season. Amethyst jewellery adds a regal charm to your holiday outfit and helps it catch the eye.
Citrine
Citrine, with its warm and yellow tones, embodies joy and positivity. The golden colour represents light, warmth, and happiness — ideal for Christmas. Citrine pieces add a cheerful and radiant touch to your festive attire.
Matching jewellery with your outfits
Wearing jewellery for Christmas requires planning, especially if you're scheduled to attend many different parties.
The pieces you choose depend on your outfit and event style — you'll want to ensure they match what you're wearing and where you're celebrating for a head-turning festive look.
Cocktail dresses
Statement earrings: If your cocktail dress has a simple neckline, consider wearing statement earrings such as chandelier earrings or oversized studs. These can add charm to your look without overpowering the dress.
Cocktail rings: Pair your outfit with a bold cocktail ring featuring a colourful gemstone. Opt for a ring that complements the colour of your dress or contrasts it for a striking effect.
Bracelets: Delicate or cuff bracelets add elegance to your wrists without overshadowing the outfit. Choose a bracelet that fits with the style of your cocktail dress.
Formal attire
Pearl jewellery: Pearls are a classic choice for formal occasions. A strand of pearls or pearl stud earrings makes your formal outfit more sophisticated. Consider wearing a pearl bracelet or brooch for an elegant touch.
Diamonds and gemstones: Diamonds and gemstone jewellery, such as diamond studs or a sapphire necklace, complements formal attire beautifully. These timeless pieces add luxury and can be paired with various formal outfits.
Casual Christmas parties
Layered necklaces: Consider wearing layered necklaces with a festive top or jumper for a casual and trendy look. Mix and match different necklace length and styles to create a personalised and chic ensemble.
Minimalist jewellery: Thin hoop earrings, delicate rings, or a simple pendant necklace work well for casual gatherings. These pieces add style without being too flashy.
Colourful gems: Informal get-togethers offer a chance to experiment with colourful gemstone Choose pieces with vibrant gemstones to add a splash of colour to your casual outfit.
Where to buy Christmas party jewellery
When it comes to finding exquisite and unique Christmas party jewellery, Robert Gatward Jewellers has you covered.
Our legacy of exceptional craftsmanship and a passion for curating stunning pieces make us a go-to destination for all your festive jewellery needs.
Explore our jewellery collection and indulge in the luxury of beautiful pieces that reflect the spirit of the holiday period. Make this Christmas party season an unforgettable one.
---